What kind of pillow do you prefer? A good pillow means different things to different people. Some people prefer a lower pillow, while others can't even sleep on a low pillow because they are used to falling asleep on a high pillow or even a pile of pillows.
Pillows are designed to support our neck and head while we sleep.
So, a good pillow is the one that supports your favorite sleeping position and makes you feel fully rested in the morning. But are there any other characteristics you should check, while trying to find the best pillow or blanket? Because nowadays, pillows are sold practically everywhere and there are many options in terms of the price and other features. Below, we will highlight some aspects that will hopefully help you to make better choices, so that you can find the pillows that suit perfectly to your sleeping needs.
The size and the height of the pillow
The general appearance of the pillows, i.e. their size and height, are 2 things that are most often considered when choosing a pillow.
If you prefer to sleep on your stomach, you should never buy a high pillow, because it can cause stiffness in your shoulder area and neck.
On the other hand, when sleeping regularly on your back, it is good to choose a higher pillow, because a high pillow supports your head and shoulders better in this position than a lower one. Alternatively, you can put several pillows on top of each other. The ultimate goal is to make you feel comfortable, no matter how many pillows you put under your head.
People who sleep on their side should prefer a medium-sized pillow for sleeping. Also, they can place one extra pillow between their legs to fix the position.
If your sleeping position varies, i.e. you sleep one night on your side and then the other on your back or on your side, you should go for a pillow that adapts to your position and does not lose its´ fluffiness while changing positions.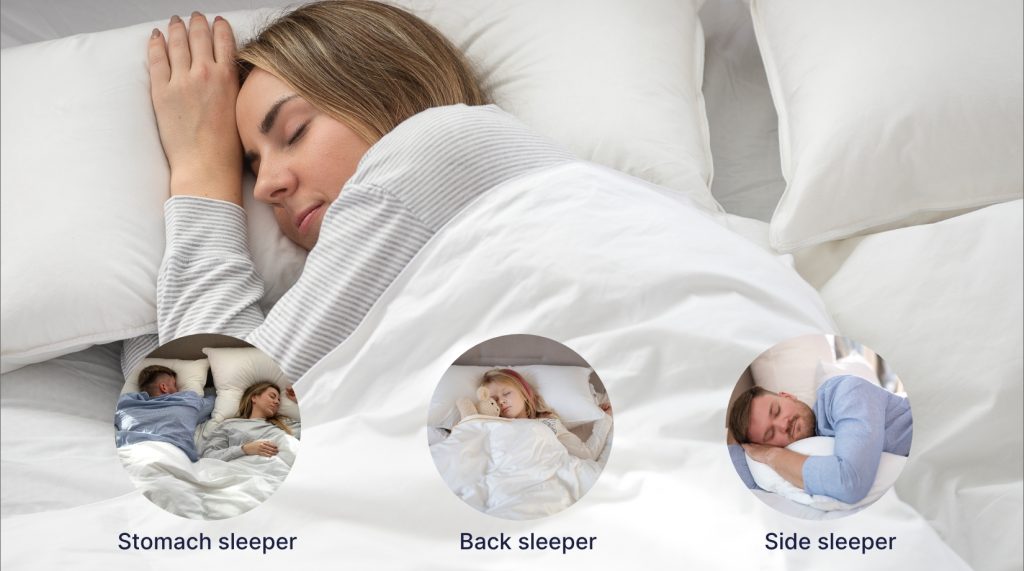 The filling
A very important factor when choosing pillows is the filling material. Cheapest pillows are often made of wadding, which tends to lump over time and loos its´ fluffiness. This means that after some time, the pillow will lose its` original appearance and needs to be replaced. The wadding pillow is also more difficult to take care of.
Quality pillows are usually filled with more durable filling and fibers that are antibacterial, prevent bacteria from accumulating and provide stable head and neck support even after years of use.
The cover of a pillow
The cover material of the pillow matters as well. Some pillow covers absorb moisture and get dirty easily, so they need to be washed more often.
If you tend to sweat at night, it's worth choosing a pillow that is surrounded by a cover that has a smart feature to wick the moisture away from your body. This way, you can always enjoy a comfortable good night's sleep, regardless of how hot your body is.
Washing your pillows
Important information about the quality and durability of the pillows can be found in the washing instructions. When choosing a pillow from a shop, check first if the pillow is washable. If machine washing is allowed, then make sure to wash your pillow at the maximum temperature indicated in the label, and repeat it every 1-3 months.
If tumble drying is allowed, you can throw the pillow in the dryer after washing. If you don't have a dryer or you have a pillow that can't be dried in a dryer, place the pillow on the drying rack to dry it in a flat position after washing.
Dreamsville BIO pillow – a sustainable alternative to a feather pillow
Many people prefer to sleep with feather pillows. However, feather pillows are also known to cause allergies, so unfortunately many people cannot sleep on them.
That's why Dreamsville has launched special allergy-free blankets and pillows that perfectly repeat the softness and fluffiness of feather products under the head and against the skin, but are actually 100% non-down.
These BIO blankets and good pillows are designed for sleeping in all positions. The new pillow belongs to product class I, which means it is also suitable for babies, because no harmful colorants or other chemicals have been added during the manufacturing process. Also, these products are recognized as 100% allergy-free.
In addition, all BIO products are sustainable, as they are filled with revolutionary PrimaLoft® Bio™ biodegradable fibers that are 100% biodegradable. So, we are not talking just about innovation and sustainability, but Dreamsville products also represent high durability.
For example, all PrimaLoft® Bio™ pillows can be washed in a washing machine at 60° and dried in a tumble dryer. A pillow that is maintained under the instructions given in the product label, will serve you well and maintain its´ appearance and fluffiness for many years.
Why you should prefer sustainable sleep products
Coming back to the main question, which pillow or blanket to choose, you may think a cheap pillow might be even better option because it's easy to buy and easy to be replaced.
In fact, it's the opposite – that's exactly why long-lasting and sustainable products should be preferred.
This is the only way you can be sure that you are sleeping with products that are skin-friendly and not filled with fibers that may be actually dangerous. Another and no less important fact is that by using sustainable sleep products, you also become a hero who saves the world by sleeping better.
At Dreamsville, we use unwanted plastic PET bottles to make our products. By turning PET bottles into new fibers, we reduce soil pollution and help prevent plastic from ending up in landfills. In addition, such production consumes less energy than creating new polyester.
By manufacturing our products sustainably, we generate up to 50% less carbon dioxide emissions, and if we can bring the recycled polyester back into circulation without quality degradation, we also minimize the waste of raw materials.
For one pillow, 45 plastic 0.5 l water bottles are used. To produce a single size blanket, it takes the same amount of bottles.
Choose a blanket and good pillows that will make your sleep better, so that you can be better at being awake
From Dreamsville e-shop, you can order your new pillows and blankets directly to your home or parcel machine.
All Dreamsville pillows and blankets are made in Germany and designed in Estonia and have a 2-year warranty. From 150 € purchase, we offer free delivery for your desired sleeping equipment. If it turns out that the new product is not suitable for you, you can return it to us.
If you are not quite sure which product to choose, feel free to check our product reviews, where people are talking about how their sleep has changed with new blankets and pillows.