Offer your customers a better experience by improving their sleep quality in the most sustainable way
So say hello to
Circular Hotel Bedding Service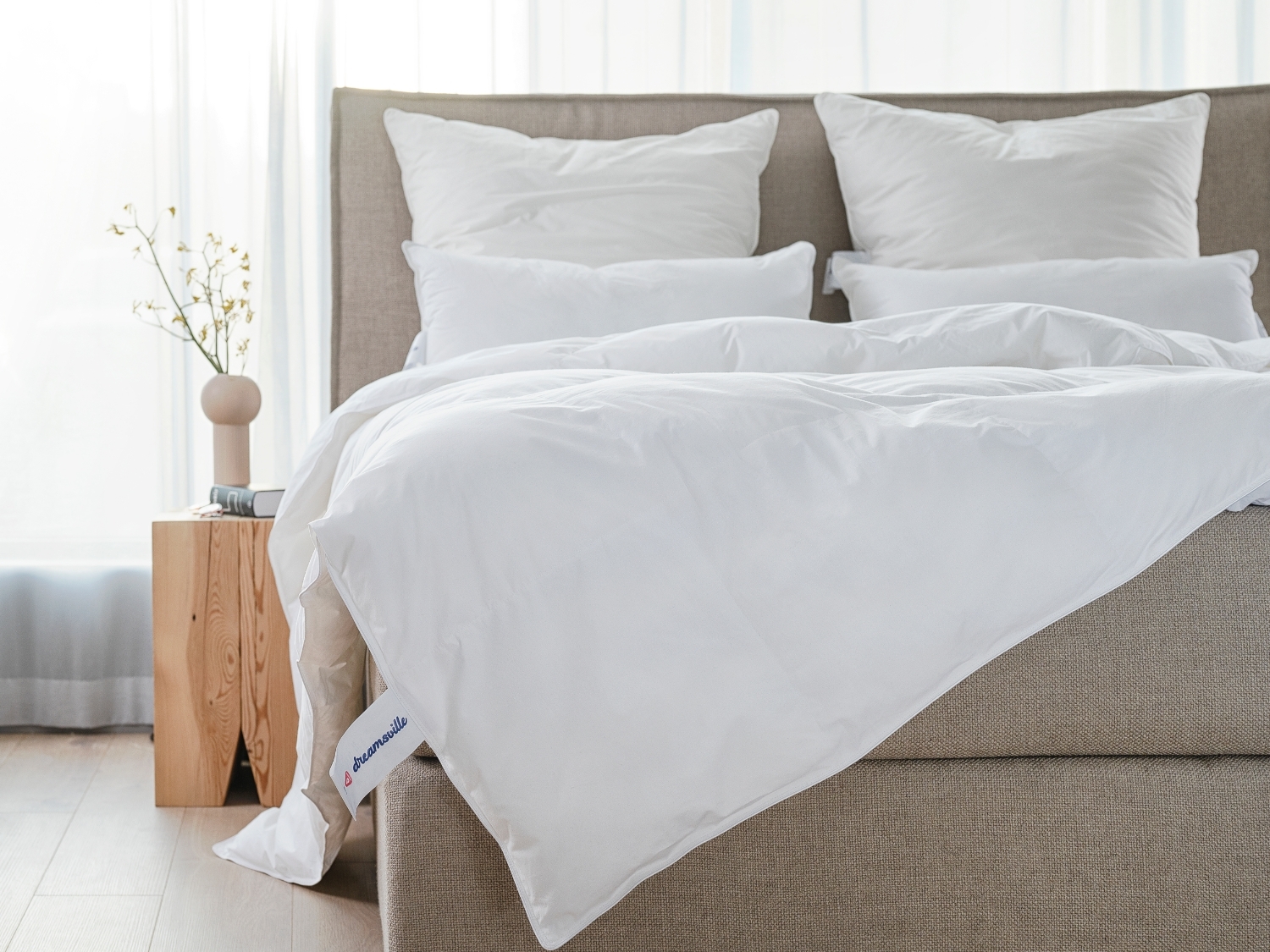 Most hotels don't know when is the right time to replace their old pillows and blankets
Did you know that an average pillow has more than 350,000 potentially live bacteria colonies? While most of them are harmless, some can be toxic and even fatal. *
Keep your client's sleep hygiene to the max
Don't lose good feedback because of old sunken and yellowed out pillows. For example you should change your pillows every 1-2 years even if washed regularly. But this can be frustrating when you've bought expensive pillows and now you just have to throw them away.
"Luckily, we have a solution for that too…"
At Dreamsville we take the responsibility of picking up your old pillows and making sure that they get recycled into something new or they get to biodegrade somewhere where it doesn't harm nature. That way you won't lose your invested money and get new products for your hotel – starting from new mattresses to acoustic panels.
Did you know that most hotels throw away or donate their old pillows and blankets?
While it's definitely a solution, we have something even better. We offer a solution where we take your old products and make something new out of them for you.
*If there's nothing you need, we can produce something for others who actually are in need. Take a look at how we did with Bob W. apartments:
This is how it works:
Once you sign up, we will come to you and pick up the old hotel supplies and give you new ones — pillows and blankets that are allergy-free and especially designed to improve your customers' sleep.
That's it! Now it's our responsibility to make sure that the old products get recycled — and not only that — we can make custom products for you from recycling the materials.
This way you improve your business and saving the environment at the same time.
We will keep you posted about all the details and how's it going via e-mail.
Benefits
We collect your old bedding & replace them
Once you sign up for the service, we will understand your specific needs, come to you and pick up the old pillows and blankets and give you the new Dreamsville ones.
We break old bedding products into pieces
We remove different materials from the bedding and cut them into pieces — Our bedding producer partner will be of great help, and we'll keep you posted.
Sanitize with high temperature
Thermoforming is a commonly used process which uses high temperature that kills bacteria — but keep in mind that the sanitizing process might vary based on each case.
Circular production
We'll make use of the recycled material and it might also be necessary to mix production waste materials — we'll work this out depending on each case.
Sustainable sleep
Our upcycled products keep improving the sleep quality of many.
Dreamsville products - the best choice for hospitality
The right fit for all sleep types
We develop products that are ideal for anyone who's a sensitive sleeper and is allergic to down, latex or wool. It is soft but still feels full and lofty because they are filled with hypoallergenic, anti-microbial PrimaLoft fiber fill and covered in 100% cotton.
PrimaLoft is a unique blend of ultra-fine fibers engineered to mimic all the desirable attributes of down, with none of the allergens.
It is thoroughly tested
Custom-made circular hotel bedding
Our bedding products are designed in Estonia and manufactured in Germany following top-quality standards and your special needs. We are using innovative and sustainable materials for our bedding products — and we also offer a Circular Service where we take your old products and we upcycle them for you.
.
High-quality fiber for better sleep quality
Also, PrimaLoft® Bio™ fibers break down at a highly-accelerated rate in landfills and oceans because we've optimized them to be more appetizing to the naturally-occurring microbes in the specific environments. These microbes allow synthetic insulation and fabric to return to natural elements: water, CO2, methane, biomass and humus – a common, natural component of potting soil.
Let's keep the oceans clean
Did you know that more than 9 million microfibers are released into the water systems and then into the oceans when the products are washed?
Our products break down at a highly-accelerated rate in oceans. So even if you have decided to not recycle our products, they break down themselves – so no need to feel bad!
To make our products, we are turning unwanted PET bottles into new fibers to reduce plastic waste, soil contamination and prevent it from ending up in landfills and it requires less energy than virgin polyester.
This introduces up to 50% less CO2 emissions than virgin material. Recycled polyester aims to be continuously recycled with no degradation of quality, allowing us to minimize wastage.
Gentle on the skin

Enjoy the softness — perfect for people with sensitive skin or allergies.

Looks real fancy

Luxurious top-of–the-line feel adds the best look to any bed.

Lasts for a long time

Durable material with long-lasting properties even after being washed for several times.

Circular Service

We take care of your old bedding and we make custom-made products for you.

Regulates temperature

Thermal regulation and moisture management keeping the body relaxed during sleep in various climates.

Prevents bacteria

Easy to wash materials, so even an used blanket and pillow can again become germ-free.
"Top-of-the-line Circular bedding for hospitality that creates that amazing feeling of a fluffy and welcoming feather blanket or a pillow"
by using PrimaLoft® BioTM revolutional biodegradeable* fiber.
*93.8% biodegradation in 646 days under ASTM D5511 conditions (accelerated landfill environment); 74.3% biodegradation in 889 days under ASTM D6691 conditions (accelerated marine/ocean environment). The stated rate and extent of degradation do not mean that the product will continue to degrade.
"So let's work together for your clients good sleep quality and save the world."
Schedule a quick meeting with us and let's see how we can make your business contribute in helping the world become a better place.